Choosing Scott Street Tomato House Produce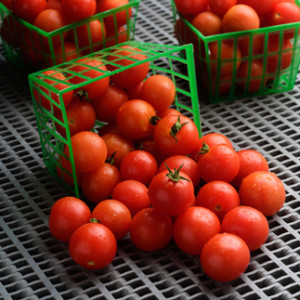 Our produce at Scott Street Tomato House is some of the freshest and safest available.  We provide excellent quality tomatoes and peppers in your grocer's produce aisle.  This blog is to help both retailers and their consumers with information about the produce that Scott Street Tomato House provides, both in bulk as well as individual stay-fresh packages for our retail customers.
Encouraging healthy eating habits by incorporating fresh fruits and vegetables is a goal not only for us, but for the country as a whole.  We strive to provide the tastiest produce available; I have heard our purchasing manager say that he would rather not stock peaches than to buy tasteless ones just so we could have peaches to sell.  That commitment shows that you are our number 1 priority.
Our goal is for  you to find this blog useful in learning more about produce, easy recipes for you to incorporate more fruits and vegetables into your diet and a way to keep in touch with us about your wants and likes.
I invite you to try our produce.  This spring we handed out small clamshell boxes of our grape tomatoes at the Healthy Memphis Food Festival. They were a hit!  Parents were especially pleased when their small children ate them like, well, grapes!
If you do not see our produce at your local grocer, we ask you to mention our name to your grocer; we would love to have your business!